With all of the options to choose from when it comes to Stafford commercial cleaning services, you have to make sure you choose the most professional company that you can find to clean your commercial building or space. The great thing about choosing our commercial cleaning company is they will clean your offices fast and efficiently. That way they will always look spotlessly clean anytime a client or customer enters your establishment. This will not only increase your chances of gaining a sale, but you may retain them as repeat customers in the future as well.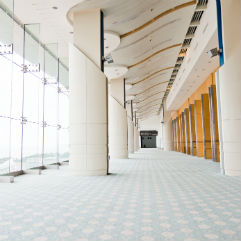 Don't just run out and hire any company that you find in the yellow pages. You will want to do your homework on all of the cleaning companies in your area prior to hiring one of them. Most professional companies have websites these days, which makes researching their services a whole lot easier. If you cannot find their website then call or email them and ask what kinds of cleaning services they offer. Some typical cleaning services you might want to inquire about are floor vacuuming, window cleaning, and carpet cleaning. If you have any special cleaning requests, then verify with the company that they can be fulfilled.
Safety features is another crucial thing you will want to consider before hiring a Stafford commercial cleaning company, especially if you want them to clean a high rise building. That way their cleaning won't interfere with the safety of the employees and clients who are in the building at the same time. Commercial cleaning companies generally have durable safety equipment that allows them to maintain safety while on the job, so this really shouldn't be an issue. But it is good to make sure anyway just to protect yourself and the stakeholders of your business.
If you are on a limited budget and still want to have a high quality cleaning service, then you can shop around to find such a service at an affordable price. First you should get quotes on the prices from these companies to get a general idea of what you will have to pay. Then once you find a price that you like, go on the internet and research the reviews and testimonials from other clients who've done business with the company before. If the reviews are mostly positive and mention the Stafford commercial cleaning service is high quality, then you should go ahead and hire the company to clean your building.