Whether your workplace is clean and hygienic or not says a lot about your business. But maintaining a sparkling clean office can be a pain. There's a bunch of cleaning duties you need to take care of in order to ensure your office is ready for employees and visitors. And, this can include duties that you need to perform on a regular, if not daily, basis. They can range from floor sweeping, vacuuming, and dusting to sanitizing and trash removal.
Many companies don't have dedicated employees to carry out these functions. For businesses struggling to keep costs down, hiring full time cleaners is not an option. But, a Janitorial service can provide the flexibility to scale up or down as your business requirements change. However, even if you have a dedicated staff to do these tasks, they are probably not going to match up to what a professional janitorial service can do. Why? Let's look at some areas where a janitorial service company scores better.
They Are Trained For The Job
Cleaning is not rocket science. But it sure needs experience and training to know how to efficiently handle the large-scale cleaning needs of a commercial or retail space.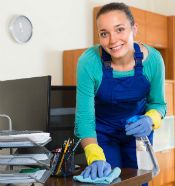 Truth is, there is much more to keeping an office clean than simply dusting, sweeping, and keeping things in order. And, commercial cleaning services know what it takes to make your office run smoothly.
Janitorial services staff are not just trained in properly cleaning, dusting, and sanitizing; but more. They are skilled in proper use of cleaning agents and equipment to ensure a clean, sanitary, and esthetic environment. Plus, they specialize in cleaning techniques to minimize or eliminate cross-contamination.
Let's face it. We've all had experiences where the cleaning staff didn't show up a day before an important meeting, leaving your workplace in a mess. When you hire the right janitorial service company, you're working with professionals who take these things seriously. Prior to hiring, it's always best to have a contract in place. This will establish their cleaning schedule and determine the level of service needed to meet your standards. So you can have the peace of mind, knowing that the job will get done according to your schedule.
Cost Savings
The benefits of hiring a janitorial service company really shines in one area: Cost effectiveness. Because a dedicated cleaning staff would be subject to everything a normal employee would cost. This includes pay for regular hours, health benefits, and other costs.
In contrast, a janitorial service hired to clean your office is not on your payroll. Obviously, they don't fall under these benefits. Because you pay a janitorial service a flat fee on a contract basis. Plus, you're in control of how much you are going to spend. The cost is based on how often you want them to do the cleaning.
Scale Up or Down
Janitorial service companies set the fee according to your business needs. And, we all know those needs keep changing. For example, if you are a small establishment with fewer employees, you may not have to get your office cleaned every day. But the scenario will change as your business grows. Or if you are a seasonal business. Because a seasonal business has their own ups and downs. So during a peak season, you may need more efforts to keep your workplace in top shape. But, not so much during the slow season. A janitorial service company will adjust their services as per your needs and the contract you have in place.
End-to-End Management of Cleaning Duties
There's a Styrofoam cup left on the window ledge from the last office party. The office floors need to be mopped but you've run out of floor cleaner. Or, that dusty spot on the corner. All of these point out one thing: Poor management. Yes, cleaning duties need to be properly managed. But, it can be difficult to keep track of things while pursuing your business goals. This is mostly what happens when you have an in-house cleaning staff. The management of cleaning duties falls on your shoulders. But, when you hire a janitorial service company, it becomes their responsibility. From staffing issues, cleaning standards, the procurement of supplies and equipment, they do it all. This frees up you and your staff to focus on other duties.
Eye for Details
A professional janitorial service company knows what to keep in stock. Things like toilet paper, paper towels and sanitizing hand soaps. It sounds simple, but so are the thousand other things you must do. No wonder business owners can easily overlook things like this.
Ease of Hiring A Janitorial Service
Once you've zeroed in on a janitorial service company, they are only a phone call away. Hiring a cleaning staff, on the other hand, involves a lot more time, work, and scrutiny. A professional company will always have a team of screened and vetted staff. So you can be assured of their quality of service as well as security. Considering these advantages, it's often best for business owners to turn the cleaning duties over to a reputed and professional janitorial service company.