Restaurant Owner Pro Cleaning Company Tips
Take it from the cleaning company pros in Houston TX. No matter how delicious the food you serve at your restaurant is , if you ignore its cleanliness, your customers will run for the hills. A clean restaurant is a loyalty card for your customers. It is an assurance of the quality and safety of the food that you will serve to them and that will want them to come back to your restaurant again and again.
Analyze and Assign the Cleaning Tasks to Your Staff
It's always best to plan and decide beforehand the cleaning tasks that you will need to do on a daily, weekly, or even a fortnightly basis. Prepare a checklist of the cleaning tasks and assign them to your restaurant staff. You will need to ensure that every single employee knows their duties well and maintains the standards of the job.
Don't Ignore the Cleaning Jobs That You Need to Do All Day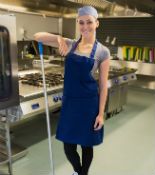 Restaurant is a busy place and naturally, a dirt magnet. There's always a few things in your restaurant you need to keep clean all day. For instance, after you have served an order, brush the grill and tidy the areas where you prep the orders.
You may find the need to switch between the cutting boards but make sure someone is cleaning them on rotation.
Of course, it goes without saying that items like meat, fish and vegetables should have their own cutting boards. Make sure that you are emptying the trash frequently. Create a list of such daily jobs and make sure everyone follows it to the 'T'. This should actually become a part of the everyday routine for you and your staff at the restaurant.
Ensure a Cleaning Routine Before Closing the Restaurant
Every day, before you close your restaurant, it is essential to clean all the utensils, appliances, counter tops, and stove. If there is any leftover food that has crossed its food safety label, please dispose it off following the safety standards. Rub the greasy areas, if any.
Cleaning Tasks You Can Do Weekly
You can clean the contents of a walk-in fridge every week and sanitize them properly. Apart from this, you can also schedule the cleaning and sanitizing of drains, faucets, and sinks. Appliances such as the coffee machine, ovens, and several other appliances that you think need cleaning, can also be a part of the weekly checklist. Decide a specific day of the week when you can schedule the cleaning task.
Cleaning That You Can Do Monthly
There are tasks which you can do monthly. Your staff may have to invest some extra time to make your restaurant sparkling clean. Monthly cleaning will include cleaning of walls, fans, vents, ceilings, and floors. Empty ice machines and sterilize them. You can do storage areas and freezers as well every month with consistency.
Employ a Professional Cleaning Company
Ensuring your restaurant is always clean can be a bit overwhelming. If you are struggling at this, hiring a commercial cleaning service can be a good idea. As cleaning is their area of expertise, they can determine the right techniques and solutions for superior cleaning results, while you can focus on your core job of serving great food to your customers.
Final Word From A & T Cleaning Company
Keeping your restaurant clean is a prerequisite for your reliability and popularity. Customers love to see a restaurant spotless. So you should request them to keep their spots clean by not throwing the food on the floor or avoid making any mess. This will show their cooperation level and help you manage your restaurant without much hassle. For information about our professional cleaning company in Houston TX call (713) 653-3784.