Choosing the right Houston commercial cleaning company requires a lot of thought. Many companies are very quick to hire a full-time janitor for their cleaning needs. This simply isn't needed with the wealth of part-time janitorial services available. Especially in the Houston commercial cleaning industry. Part-time janitorial services ensure that your business can remain as clean as possible. Resulting in doing so without the need to hire on a full-time employee. The problem with such competition in this market place is that it can be tough to find the right company. One that can handle the needs of your facility. If you run into problems early on it could mean issues down the line. Especially if you sign a long-term contract with a particular provider. Here are some top considerations for selecting the right Houston commercial cleaning company:
Online Houston Commercial Cleaning Company Reviews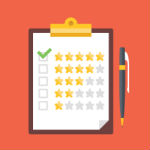 Check out online reviews first. Because it's not a good idea to go with the lowest price option automatically. Checking out some online reviews can help you find a company that has an excellent service rating in Houston Texas.
Searching for a company that can offer you the best quality of service is always preferable. Because checking out online reviews and learning more about the history of a particular cleaning company is a good place to start. Facebook reviews are a good place to start. Google reviews are also a great reference point…
This can give you a good picture of the type of service and quality they have. If a company is widely known, has many online reviews as well as positive reviews from current customers there's a very good chance that they can provide the same level of service to you.
Commercial Cleaning Quotes
Get several quotes… Making sure to interview a few Houston area commercial cleaning companies is important. Make sure you can have a rapport with a particular company. Therefore making sure you can ask the right questions. And get the answers you need to make a decision. Be sure to ask about the special services they have to offer. And of course about some of the cleaning packages that your company can sign-up for on an ongoing basis. If there is a system in place for unique urgency cleaning services. As well as extra customer service concerns. You generally know that you are in pretty good hands from a quoted perspective. Comparing multiple companies for price is also an important aspect of shopping. This can help you to save considerable costs in your cleaning budget.
Products Used While Cleaning
Ask what types of products they use. Some Houston janitorial service commercial cleaners will offer up specialty services. Services such as Eco Cleaning products, carpet cleaning, & deep cleaning services. Getting access to these extra features can really help you to improve the quality of service. Having extra services like floor stripping and waxing can make your company look better. And ensure you can always enjoy the finest quality clean.
Bonded & Insured
Consider references and insurance. Because it is important to know that a Houston Texas commercial cleaning company will have insurance. Insurance and a business license for bonded work. Without proper insurance you could be held liable for any potential injuries that take place on your premises. Resulting in potential liability. So always make sure that the company can legally work within a business like yours by checking the references and making sure that the cleaner offers you a fair contract. Getting locked into a Houston commercial cleaning company difficult long-term cleaning contract is not good. Neither is working with a company without references & insurance. This can be a big risk. One that is not worth any potential cost savings.
Check out A&T janitorial for a great first option as a commercial cleaner in Houston TX.