There are a lot of Pearland commercial cleaning companies to choose from. There are companies that specialize in cleaning residential properties, commercial properties and both. But what you have to concern yourself with is choosing a company that will do the best job and give you the highest quality results. That is why when you first go to interview various Pearland commercial cleaning companies you need to make sure you are clear about what you expect from them. You should provide them with details about what needs cleaning, where to clean, how frequently, and what you want the end results to be. That way there are no surprises down the road where you find out the company cannot do the job you paid them to do.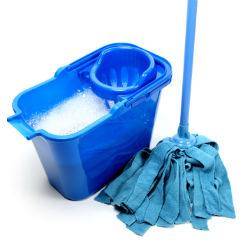 You'll always want a company that specializes in commercial cleaning services because they have the most sophisticated tools and chemicals to perform a high quality Pearland commercial cleaning job. You'll also want them to specialize in cleaning lavatories, restrooms and living areas because these locations are the most infested with germs and mess.
Now if you have cleaning that is needed on the exterior of your building, make sure the company you hire can do outside cleaning jobs as well. This could include picking up trash, washing windows, sweeping and other kinds of outdoor cleaning tasks. By doing this, it will give your employees and clients a good feeling when they first look at your building.
Aside from the lavatories and other common cleaning places, you'll also want an experienced Pearland janitorial cleaning company. One that will clean the ceiling and lighting fixtures. These are the most overlooked places when it comes to cleaning, but they are important because they build up dust and mildew very easily.
Finally, you need a Pearland Commercial cleaning company that offers great customer service and is upfront about the costs of their services. Most professional companies will have email and phone options available for contacting them. If you can find one that has 24-hour support then it is even better.
Professional Pearland Commercial Cleaning Companies
The idea is to be able to establish a relationship with the cleaning company where you can merely call or email them whenever you need to have something cleaned in your building. After all, you never know when an emergency situation will present itself where you need to have something cleaned right away. Otherwise, this could translate into surprising your employees or customers with a mess that will hurt your business and its productivity.